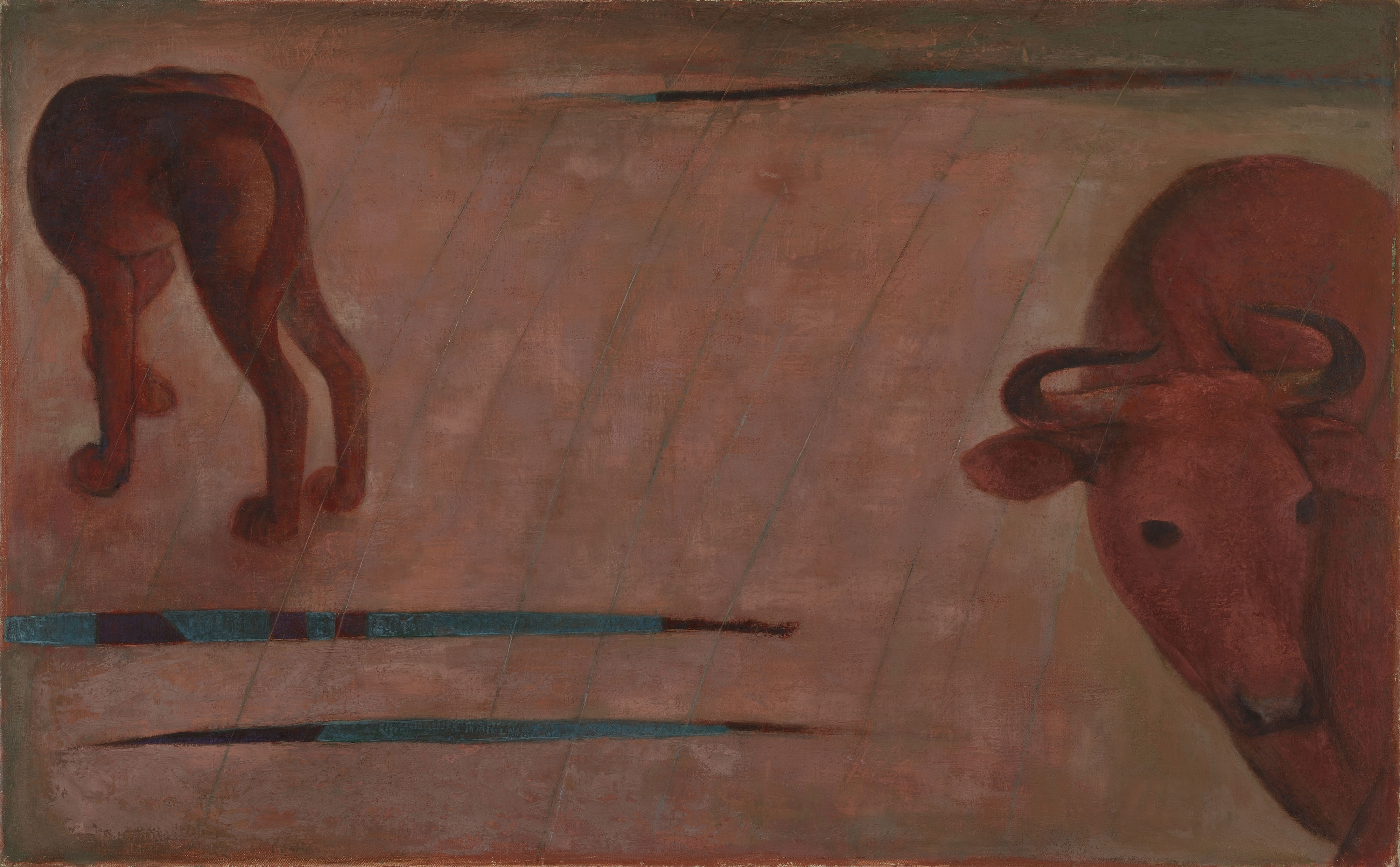 〈画家のことば〉
ホロンバイルの草原は、草原というよりむしろ沙漠に近いイメージである。五月過ぎのホロンバインは、風の強い日は防塵眼鏡が必要なほど砂塵が舞った。その黄色い空を一掃するようにスコールが過ぎると、息をのむような美しい巨大な虹が立った。わだちの跡の水たまりに、のぞき始めた青空が映る。大地は美しいと思った。蒙古牛、蒙古犬も美しい。兵隊以外はみんな美しいと思った。しかし、そのたくましい動物が弱々しく描けてしまった。復員してまもなく、まだ体調が充分に回復しない時期に描いたせいであろうか。殺風景な土の絵を、少し感傷的に、鮮やかな色に仕上げたのは、戦争と抑留生活にすさみ切った心が、知らず知らずのうちに、失ったものを求めていたせいかも知れない。
『シベリヤ画集』(新潮社、1971年)
香月泰男【かづき やすお】
生没年 1911~1974(明治44年~昭和49年)
山口県大津郡三隅村(現・長門市三隅)に生まれた香月泰男は、東京美術学校で油彩画を学び、美術教員の傍ら国画会を中心に作品を発表しました。1967年、太平洋戦争への従軍と戦後のシベリア抑留の経験を描いた「シベリア・シリーズ」により、第一回日本芸術大賞を受賞。その作品は今日も多くの人々を惹きつけています。

〈Painter's words〉
They say Hulunbuir is an area of grassy plains, but it seemed more like a desert. The strong winds arrived after May, whipping up sandstorms so fierce that we had to wear goggles. These would be followed by squalls that would clear the yellow skies, after which there would appear an enormous rainbow of breathtaking beauty. The blue sky above would be reflected in the puddles that formed in the tire tracks. At these times the land was truly beautiful, as were the local Mongolian cattle and dogs. Indeed, everything other than soldiers was beautiful. But these noble animals are shown as weak and delicate in this work. Perhaps it was because I painted them shortly after being repatriated to Japan, when my health was still not good. The use of bright, almost sentimental colors against the drab backdrop of the featureless ground, may suggest that, having been hardened by my experiences of war and internment, I was, even without knowing it, yearning for something that had been lost.
Siberian Series (Shinchosha, 1971)
Kazuki Yasuo 1911 – 1974
Born in Misumi-mura (now Misumi, Nagato City) in Otsu-gun, Yamaguchi Prefecture. Studied oil painting at Tokyo School of Fine Arts, then taught fine art while producing works that were primarily exhibited at Kokugakai (National Painting Association). Kazuki was sent to fight in the Pacific War (WWII), then interned in Siberia after the war. This experience resulted in the Siberia Series, which won the inaugural Japan Art Grand Prize in 1967. This series is considered an important body of work that still resonates widely today.