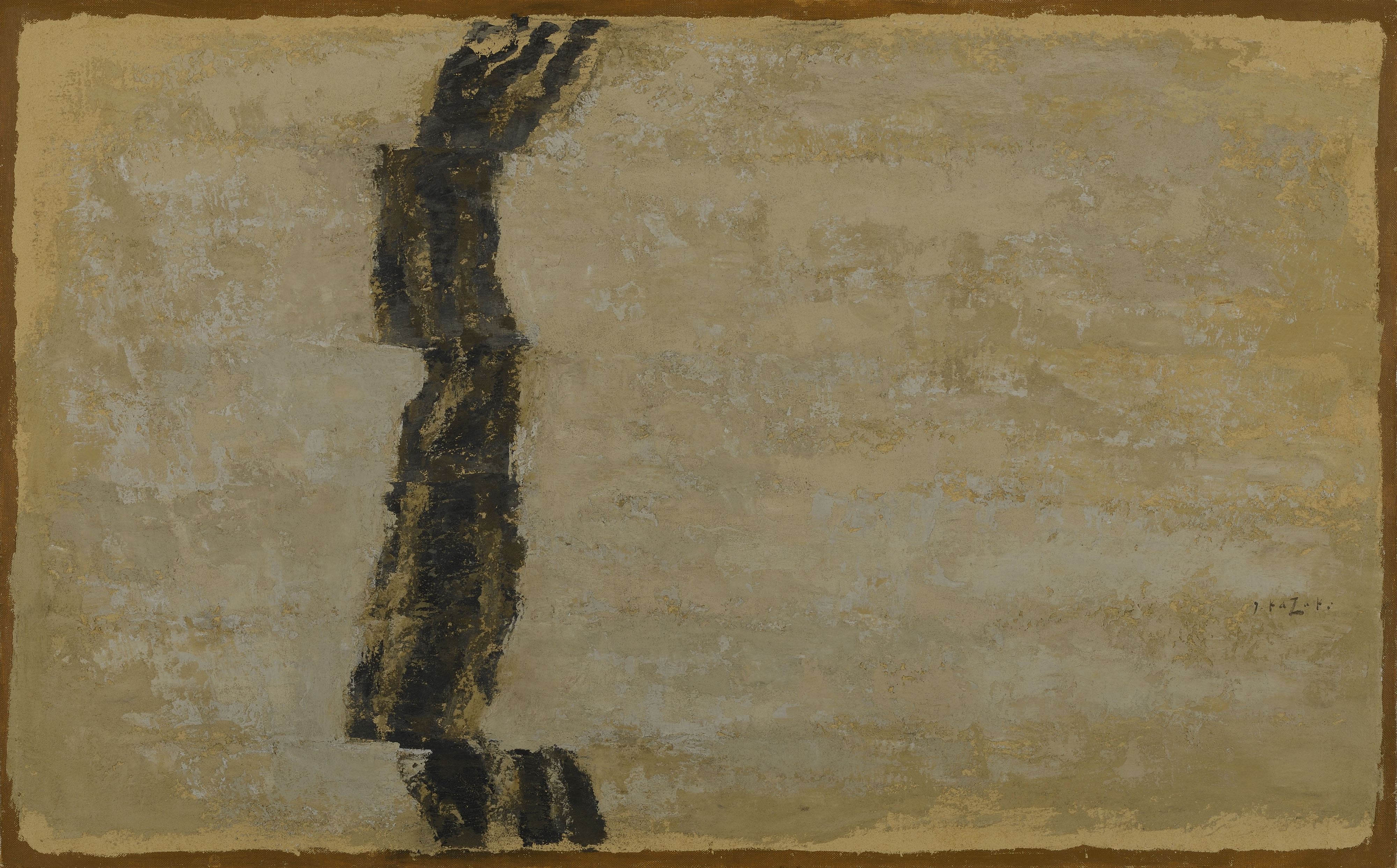 〈画家のことば〉
海拉爾の部隊から雪の丘を越え越えして外出するときは「自由を我らに」を口ずさんだものだが、門限ぎりぎりに帰営する時のやるせなさは、同じ道がこうも異なるものかと無情に思えた。
『香月泰男展』図録(フォルム画廊、1973年)
香月泰男【かづき やすお】
生没年 1911~1974(明治44年~昭和49年)
山口県大津郡三隅村(現・長門市三隅)に生まれた香月泰男は、東京美術学校で油彩画を学び、美術教員の傍ら国画会を中心に作品を発表しました。1967年、太平洋戦争への従軍と戦後のシベリア抑留の経験を描いた「シベリア・シリーズ」により、第一回日本芸術大賞を受賞。その作品は今日も多くの人々を惹きつけています。

〈Painter's words〉
When getting out on the town on rare occasions, we would leave our unit in Hailar and go over an endless succession of snow-capped hills, humming Freedom is ours to ourselves, then arrive back at the barracks just before lockup. In our wretched existence defined by heartless cruelty, we couldn't help feeling sad at the thought that the same roads could be so different.
Catalog of the exhibition Kazuki Yasuo Exhibition (Formes Gallery, 1973)
Kazuki Yasuo 1911 – 1974
Born in Misumi-mura (now Misumi, Nagato City) in Otsu-gun, Yamaguchi Prefecture. Studied oil painting at Tokyo School of Fine Arts, then taught fine art while producing works that were primarily exhibited at Kokugakai (National Painting Association). Kazuki was sent to fight in the Pacific War (WWII), then interned in Siberia after the war. This experience resulted in the Siberia Series, which won the inaugural Japan Art Grand Prize in 1967. This series is considered an important body of work that still resonates widely today.

《畫家的話》
從海拉爾的部隊越過雪坡外出時,會哼唱《給我們自由》,但在臨近關門前,回到軍營時的鬱悶,讓人覺得同樣的道路怎麽會如此不同。
《香月泰男展》圖錄(Forum畫廊,1973年)
香月泰男
生卒年 1911~1974(明治44年~昭和49年)
香月泰男出生於山口縣大津郡三隅村(現長門市三隅),在東京美術學校學習油畫,在擔任美術教員的同時,主要在國畫會發表作品。1967年, "西伯利亞係列 "獲得了第一屆日本藝術大獎,描繪了香月在太平洋戰爭中服役以及戰後被關押在西伯利亞的經曆。那些作品至今也受很多人歡迎。