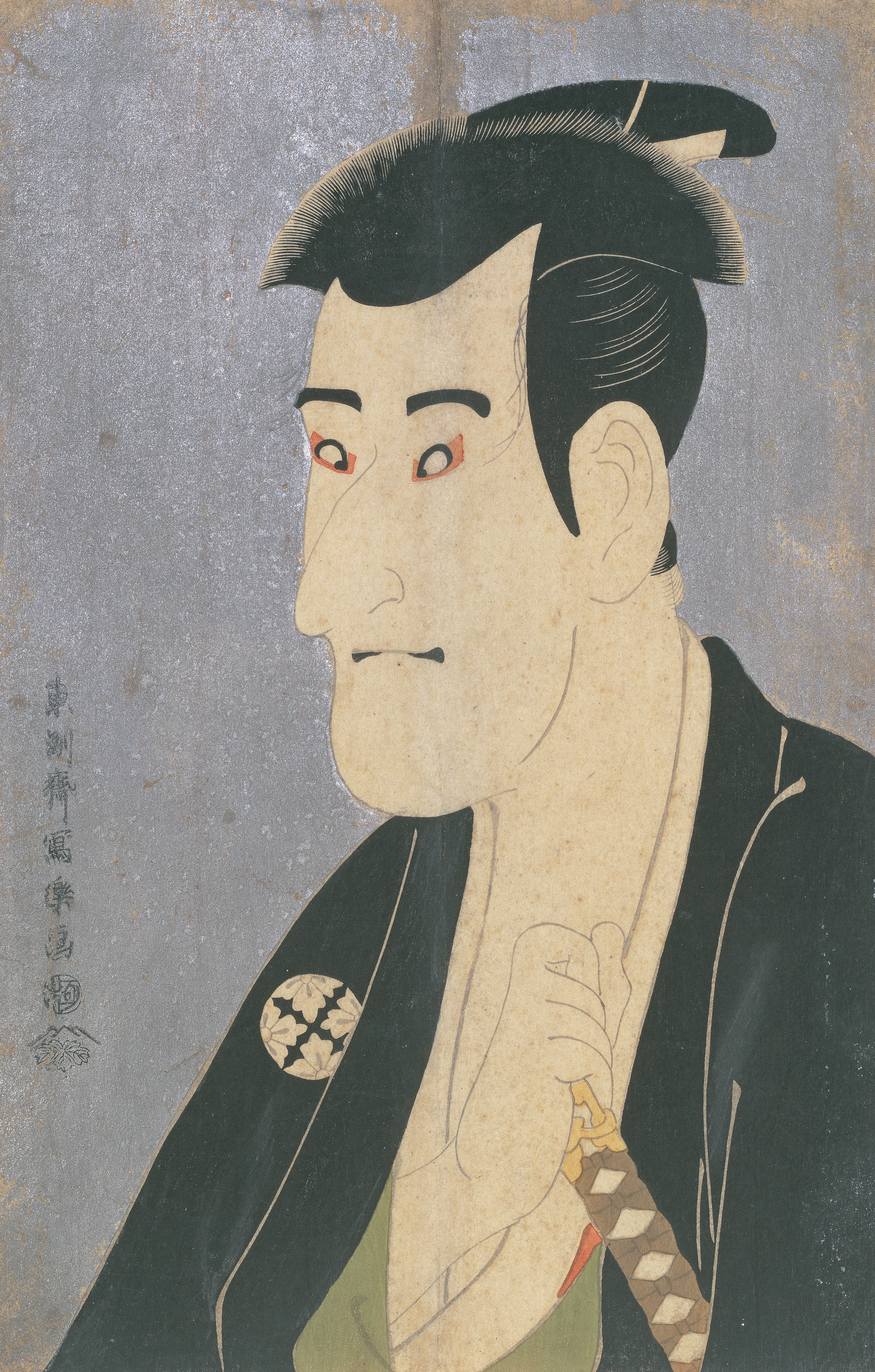 さんだいめいちかわこまぞうのしがだいしち
三代目市川高麗蔵の志賀大七
寛政6年(1794)5月、江戸の桐座(きりざ)で上演された歌舞伎「敵討乗合話(かたきうちのりやいばなし)」に取材した役者絵です。三代目市川高麗蔵の演じる志賀大七は刀に手を掛けており、これから刀を抜いて殺害に及ぶのであろうことを想像させます。背景は、「雲母摺(きらずり)」と呼ばれる雲母の粉を用いた摺り技法によってキラキラとした光沢があります。
東洲斎写楽【とうしゅうさい しゃらく】
生没年 不明
寛政6年(1794)から寛政7年(1795)にかけて活躍し、役者の個性を捉えた役者似顔絵を描きました。写楽は浮世絵界に突如現れ、活動期間も極めて短いため謎が多い浮世絵師ですが、諸説あるうち、阿波藩お抱えの能役者・斎藤十郎兵衛であるという説が有力とされています。
| | |
| --- | --- |
| 寸法 | 38.1×24.8cm |
| 形状 | 版画 |
| 版元 | 蔦屋重三郎 |
| 寄贈者名 | 浦上敏朗 |

The Actor, Ichikawa Komazo III, as Shiga Daishichi
This is a print of the kabuki actor, Ichikawa Komazo III, in a scene from a kabuki performance called "Katakiuchi Noriai Banashi (A Medley of Tales of Revenge)" performed on the stage of the Kiriza Theater in the city of Edo.
This print depicts the villain, Shiga Daishichi, performed by Ichikawa Komazo III, who is about to unsheathe his sword and kill Matsushita Mikinoshin, the father of his daughters seeking revenge.
This print was created using the kirazuri technique, which uses powdered mica to produce a bright gloss on the background of the picture.
Toshusai Sharaku (the dates of his life are unknown)
Toshusai Sharaku drew some portraits of kabuki actors in which the personalities of the individual actors were captured very skillfully. He was active for just one year, from the 6th (1794) to the 7th (1795) year of the Kansei era. Toshusai Sharaku suddenly appeared in the ukiyo-e world only to disappear after a year of producing work. Neither his true name nor the dates of his birth or death are known. He remains as a mysterious ukiyo-e artist even today. Opinions are widely divided about his identity, but the theory that he was Saito Jurobei, a noh actor employed by the Awa domain, is most convincing as an explanation of his identity.
| | |
| --- | --- |
| Size | 38.1×24.8cm |
| Donor Name | Uragami Toshiro |

寬政6年(1794年)5月,在江戶桐座上演的歌舞伎《敵討乘合話》中的演員像。第三代市川高麗藏飾演的誌賀大七,手握大刀,能想象接下來的拔刀殺人。背景使用了"雲母摺(疊刷)"的雲母粉疊刷技法,閃亮而有光澤。
東洲齋寫樂(Toshusai Sharaku)
生卒年不明
活躍於寬政6年(1794年)至寬政7年(1795年),創作了捕捉演員個性的演員肖像畫。寫樂是突然出現在浮世繪界,且活動時間極短,謎題很多的浮世繪師。眾說紛紜之中,最有可能的說法是,寫樂是阿波藩的能劇演員·齋藤十郎兵衛。

<제3대 이치카와 코마조가 연기하는 시가 다이시치>
간세이 6년(1794) 5월, 에도 기리자 극장에서 공연된 가부키 「원수갚는이야기(가타키우치 노리야이바나시)」에서 따온 배우 초상화입니다. 제3대 이치카와 코마조가 연기하는 시가 다이시치가 손에 장검을 쥐고있습니다. 금방이라도 검을 뽑아 상대를 베어버릴 것만 같습니다. 본 작품의 배경은 「기라즈리」라 불리는 운모 가루를 사용한 판화 기법을 통해 반짝이는 광택을 내어 표현했습니다.
도슈사이 샤라쿠
[출생・사망년도 미상]
간세이6년(1794)부터 간세이7년(1795)에 걸쳐 활약했는데, 배우들의 개성을 포착한 배우 초상화를 그렸습니다. 샤라쿠는 우키요에 계에 갑자기 나타난 데다가, 활동 기간도 굉장히 짧았기 때문에 정확히 알려진 것 없이 베일에 싸여있는 우키요에 화가입니다. 그에 대한 여러가지 설이 있는데 그 중 가장 유력한 설은 아와 번의 공직 배우였던 사이토 쥬로베에일 것이라는 설입니다.
| | |
| --- | --- |
| 치수 | 38.1×24.8cm |
| 기증자명 | 우라가미 토시로 |